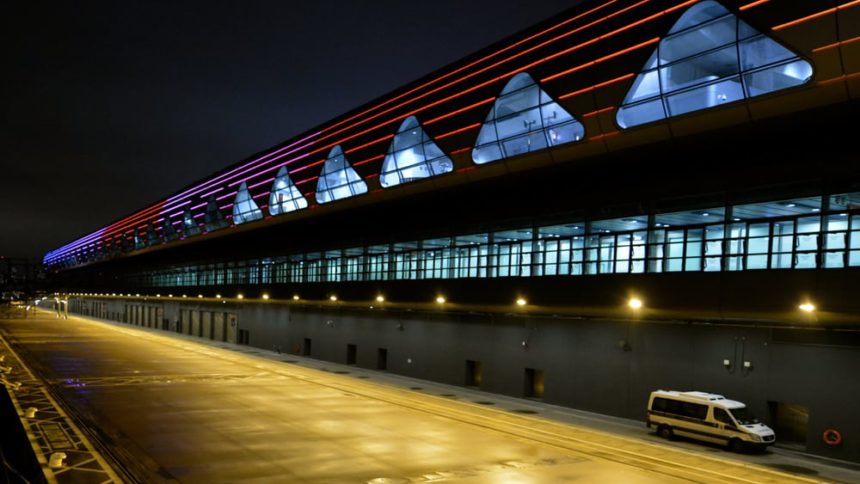 Ginormous Hong Kong Tai Tak Cruise Terminal
Not long ago, we sailed from Hong Kong with Seabourn for the third Seabourn Food and Wine Cruise.  Themed "A Taste Of Asia", we got every bit of that and more on the 14-night sailing that ended in Singapore.  Kind of swept up in it all was Hong Kong's cavernous new Tai Tak Cruise Terminal.
Built on the runway of the former Kai Tak Airport, the Kai Tak Cruise Terminal is centrally located in Hong Kong's Victoria Harbor. The terminal has year-round operations and an array of amenities not often seen at such places. Its shops and restaurants are open every day of the year and include travel retail, a wedding registry, and a 960-seat dim sum restaurant, Hong Kong cafe, Continental cuisine, Western cafe, and a wine and champagne bar.
The rooftop garden has 360-degree harbor views, and receives thousands of local visitors daily on weekends and holidays. Each month the terminal plays host to some 10-20 private and corporate events, product launches, and is an increasingly popular adjoining site for fun runs and music concerts. Opened in 2015, Tai Tak
The Kai Tak Cruise Terminal is located within 10 km (6 miles) of all Hong Kong's major metro areas. It is approximately 42 km (25 miles) to the Hong Kong International Airport, or 10 km (6 miles) to the Kowloon Airport Express station with airline check-in. Hung Hom Station with rail connections to Guangzhou, Shenzhen, Dongguan, Shanghai, Beijing and other Chinese cities is 5km (3 miles) from the Kai Tak Cruise Terminal.
When ships are in port there are free shuttle buses for debarking cruise passengers and crew to nearby shopping malls. During turnaround calls, additional paid shuttle service is typically available both from the cruise line (e.g. to airport) and from the terminal operator (e.g. to Kowloon Airport Express and Tsim Sha Tsui area hotels, and/or Hung Hom Station).  Taxis are inexpensive and relatively honest, but supply is limited during debark, particularly on weekday mornings.
Free Wi-Fi is available throughout the terminal, including the five dining outlets: dim sum / Chinese banqueting, Hong Kong-style cafe, Continental cuisine with local craft beers, Western cafe, and champagne bar. Money exchange service is available on ship call days.