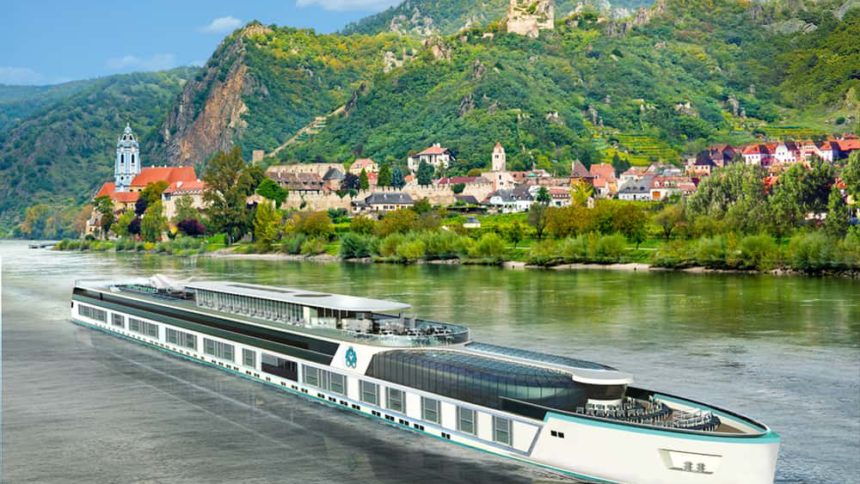 Crystal Expansion Brings Luxe River Option
Crystal Mozart is the first vessel in Crystal River Cruises' fleet. The 160-passenger ship embarks on her maiden voyage along the Danube River this July.  Basically planning on having something for every luxury traveler, Crystal River Cruises is part of a dynamic brand expansion that includes Luxury Air Travel, Yacht Cruises and more. Tagged the "Queen of European river ships", Crystal Mozart is promising some unique features.  Let's take a look at what Crystal River Cruises is offering and, perhaps more importantly, dabble a bit in what it will take for them to be a hit with luxury travelers.   To make it interesting, let's do both at the same time.
Controlled Luxury
Crystal Mozart's itineraries will explore European capitals along the Danube and the Wachau Valley, one of the most popular places on the planet to take a river cruise.  Christmas Markets will be featured beginning in late November along that same stretch of river. A special singular holiday itinerary spanning Christmas and New Year's promises to offer distinct experiences designed to showcase the most popular highlights in each destination.
I like that they are limiting their stretch of the river, hopefully focusing on those classic stops along the way. Smart move for a new player in the game.  The Christmas/New Year's sailing could be problematic for those wanting to see holiday markets.  The week of Christmas they start shutting down. 
New To Crystal
For the first time on a Crystal voyage, most excursions offered will be complimentary; an appropriate decision if Crystal hopes to compete with other major river cruise brands. A handful of more over-the-top Crystal Adventures will be available for booking on each cruise for an additional cost; private services and excursions can also be pre-arranged.
So far, so good.  Nothing really unique here. Wait, it gets better.
Unique To River Cruising
At least one complimentary excursion will be offered in every port; sort of an orientation tour.   That's not the unique part.  Additionally, since choices are a big thing at Crystal , an alternate complimentary excursion will be available in many ports for travelers who are seeking a different perspective. Also unique: a morning and afternoon option will be offered, ensuring that late rising guests do not miss out on the insightful tours.
First thoughts on that:  Well it kind of pokes a hole in the whole shared experience part of sailing with less than 200 other travelers.  To me, that's a huge part of the river cruising experience that you don't play around with.  It will be interesting to see how many passengers really sleep in late on a river cruise.  
Included in the selection of Crystal Complimentary Adventures are excursions that Crystal says they are the first river cruise line to offer:
Munich For A Day- A full-day venture to Munich, highlighting Germany's third-largest city's Olympic grounds, BMW factory, and illustrious sites of the Friedensengel and National Theatre. Sort of the first, Munich is a popular pre- or post-sailing place to linger on most river cruise lines that operate in the area.
VIP Vienna Concert- Another Crystal exclusive tour takes guests to Vienna's Belvedere Palace for a signature evening concert event and VIP access to the artists' masterpieces in the museum. This could be good
Inside Parliament- A tour through the Parliament and Great Market Hall, or exploration of the Dohány Synagogue and Jewish District in Budapest, Hungary.
Salzburg Deep- Full-day ventures to either Salzburg, including visits to the city's most iconic sites, or to the lovely Salzkammergut Lake District, both from Linz, Austria- the notion of being off ship for a full day means motorcoach rides which are typically one of the most complained about parts of the river cruise experience.
Culinary Vienna- A glimpse into the culinary treasures of Vienna, offering tastings and pairings with local beers and wines, as well as an immersion into the pastry cafés, which are known as the heart of the city.  There is no way this won't be a hit with passengers
Castle Exploration- A trip to 13th century Červený Kameň Castle in Bratislava, Slovakia, for a guided exploration of the captivating interior including beautiful Sala Terrena, plus tasting wines from the region and a falconry demonstration.   Also interesting, any tour that brings more time in Slovakia is a win in my book.
Active Exploration Adventures
Also different, Active Exploration Adventures are tailored to allow guests to explore the European landscapes while staying fit on their vacation. These complimentary excursions, under the assistance of a Crystal fitness instructor, range from a 1,700-foot hike to the top of Pöstlingberg for a birds-eye view of Linz, to 16-mile bike ride through the Wachau Valley, and two-mile treks through the vineyards of Vienna.
I really hope this turns out to be more than "we have bikes you can use".  If the fitness instructor goes along, guides the group and engages them with the destinations being visited, this could be the best part of someone's trip
The late November/December and holiday voyages feature particularly extraordinary excursions to some of the most famous and quintessential Christmas markets in Austria, Germany and Slovakia, as well as special concerts and services in the region's magnificent cathedrals.
Interesting:  the Crystal Adventures will be enhanced by the introduction of four brand new luxury motor coaches, which will follow the ships along each itinerary, and feature plush-seating accommodations for 42 guests, knowledgeable local guides, complimentary Wi-Fi and beverages including an espresso machine. The Crystal motor coaches will also provide transportation service to and from the airport on embarkation and debarkation days.
Any moving vehicle with an espresso machine is a solid win in my coffee addicted life. That aside, that the same busses follow along on the ship's itinerary is unique.  All good stuff here except for one luxury element.  Another top luxury travel company we have experienced has a standard of two seats for every guest.  That makes for a pleasant ride, everyone can keep their stuff closeby and still engage in pleasant conversation as the tour rolls along.
Booking: For more information and Crystal reservations, contact a travel agent, call 888.799.2437, or visit www.crystalcruises.com. Join the thousands who follow theCrystal Cruises Facebook page and @crystalcruises on Twitter and Instagram to engage in the conversation with #crystalcruises.
Crystal Expansion, Let's Review
In summer 2015, Crystal embarked on the most significant brand expansion in the history of luxury travel and hospitality, introducing three new classes of cruising – the recently launched Crystal Yacht Cruises (December 2015), Crystal River Cruises (July 2016), Crystal Exclusive Class Ocean Cruises (Fall 2019), Crystal Luxury Air (April 2016) and Crystal AirCruises (2017).
Crystal Yacht Cruises take just 62 discerning individuals to some of the world's most beautiful maritime destinations.  Crystal River Cruises tout six-star service, superior dining and the largest suites in river cruising. Crystal Exclusive Class Ocean Cruises will bring residences situated on the top deck of new Crystal Exclusive Class ships with their own private restaurant, reception area and facilities.
Recently Announced: Crystal will build six new luxury river yachts to be deployed on European rivers with deliveries from 2017 to 2019. The two additional river yachts are the result of continued interest and demands from travel partners and guests, and join the four previously announced vessels – Crystal Debussy, Crystal Ravel, Crystal Mahler and Crystal Bach – planned for embarkation in June and August 2017. Crystal River Cruises makes its official debut this summer with launch of reimagined Crystal Mozart on July 13 in Vienna, Austria.
Crystal Expansion- The Glue
For Crystal's robust expansion to be successful, a hefty dose of Crystal Luxury will need to be applied at ever turn.  We experienced that level of luxury on a sailing of big ocean ship Crystal Serenity not long ago.  In a suite with a very good butler, we got a good taste for what Crystal Luxury is all about.  Applied generously, everything from a picnic lunch to a trip around the world can happen in an incomparable way that only Crystal knows how to do.   Still, Crystal is not going to fill their river cruise ships, luxury yachts or jets with just fans of what they have right now: two ocean cruise ships.  Crystal will have to lure passengers from competing travel products as well.
Next, we'll take a look at how Crystal River Cruises stack up on features, itineraries and pricing; documentable factors immune to a positive or negative spin on the story.
A Gallery Of Renderings
[URIS id=61421]