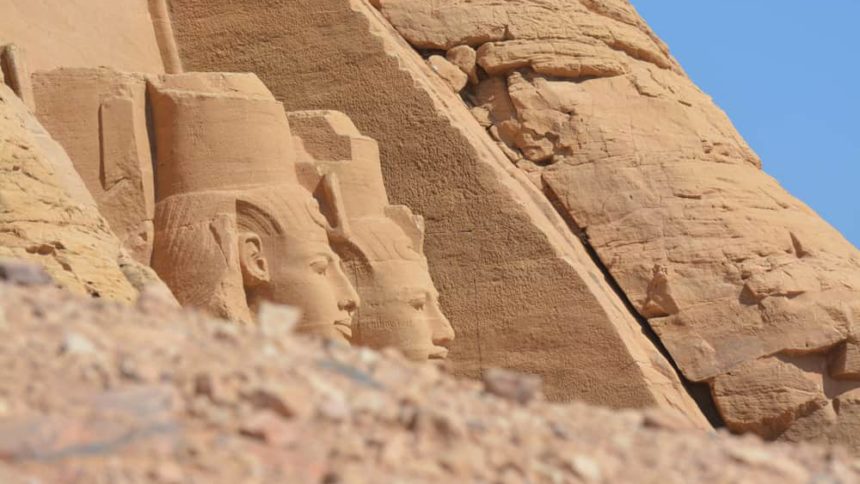 Abercrombie & Kent Luxury: The Right Tool For The Job
Growing up in the midwest United States, I learned a variety of common sense lessons that have come back to help me throughout life.  To say 'a leopard can't change its spots' speaks to the fact that a person's ​character will not ​change, ​even if they ​pretend that it will.  'Putting myself in the shoes of others' has brought a different perspective to everything from showing appreciation to the cruise ship cabin steward who cleans up after us to the Captain who is at sea for months at a time.  The concept of 'use the right tool for the job' goes far knowing we need a particular hammer to drive a nail, a certain saw to cut wood or the right glue to bond two surfaces.  When it comes to visiting Egypt, doing so with leading luxury travel company Abercrombie & Kent is very much that right tool for the job.
Throughout our journey we have addressed the topic of travel safety as it relates to Egypt, noting that we have indeed felt safe by being with A&K.  As we near the end of our time in the Land of the Riverbank and move on to Jordan, that message remains clear.  We are seeing all of Egypt with some scenes, like the one above, viewed from the safety of a guarded motor coach.
In addition, right now is a great time to visit Egypt because the crowds of ten years ago are few and far between.  Crowded attractions, a commonplace part of the Egypt experience a decade ago and just something one had to endure as part of the deal, are virtually nonexistent.  We far more often see no crowds at all here.
Better yet, A&K has an infrastructure in place that makes traveling here so easy that one wonders 'Is there any possible part of this they could do better?'  Other than beaming us from place to place ala Star Trek technology, no. They have the moving of people around down to a science.  A good case in point: the last day we spent on our Nile river ship, Sun Boat IV and the day after.
The sequence of events went like this:
Thursday
After visiting the Unfinished Obelisk and Philae Temple in Aswan, we went on an Egyptian Felucca (sail boat) for a leisurely trip around the area where Sun Boat IV was docked.  That event brought yet another perspective to our view of Egypt which we had now seen by land, river and air, during the day and at night.
Returning to Sun Boat IV, it was our Farewell Dinner, a last shot at the ship's dining room before disembarking in the morning.  Still, that was not the end of the itinerary which would continue on to Cairo for two overnights at the Four Seasons Nile Plaza Hotel.
While we were at dinner, cabin stewards tagged our luggage with the hotel room we would have the next day at the Four Seasons. In the morning, we would vacate our cabins with hand luggage only, leaving checked luggage behind to be handled by A&K staff.
Friday
The day began early with a 4:15AM automatic wakeup call, breakfast on board then off to the Aswan airport for a flight to Abu Simbel and a viewing of the Abu Simbel Temples.  After that visit, we would return to Aswan airport, spend some time there waiting for a flight to Cairo while having lunch then fly on to Cairo and be transported to the Four Seasons Nile Plaza.
Waiting in our Nile-view rooms at the hotel, our previously tagged luggage.  Pre-checked in at the hotel, we stopped by a welcome reception, picked up room keys and were done for the day.  The entire seamless procedure was as easy as I can imagine.
Abercrombie & Kent Advantage #11: They Own The Details
At that Welcome Reception another topic came up which speaks to A&K's flawless attention to detail. Egyptologist Ibrahim, being pummelled by compliments on his performance thus far, noted one of the keys to making our experience wonderful.  During the initial tour on any trip, he tries to figure out what each of the small group members is looking to get out ot the experience.  Some might be uber interested in the history, others photo opportunities, still more both.
In Speaking Of Kings And Queens, we noted a missed photo opportunity at one of the interesting places we visited.   To those of us for whom this experience is largelt about the images, that reduced what could have been a marvelous gallery to share to:
"The afternoon brought a short small boat ride to the West Bank of the Nile then on to the Valley of the Kings, a stop by the Valley of the Queens and more…that I can't show you because photos are strictly not allowed."
Taking the time to notice our individual priorities, Ibrahim both showed us and then gave us photos of the interior of the Abu Simbel Temples to bring home, along with a group photo captured in front of the attraction.
Abercrombie & Kent Advantage #12:  They Read The Audience
Had Ibrahim simply followed a well-written script and checked places to visit off a list, this would have been a good experience.  That he took the time to enable customization of the experience that went beyond already in place benefits of traveling with a small group made it a great one
Coming up, we explore a different side of Cairo and take a look back at our sailing on the Nile with Abercrombie & Kent Small Group Journeys.
Follow Along On Our Abercrombie & Kent Journey:
At ChrisCruises.com via these previous posts:
On Facebook– see ChrisCruises for updates and these image collections, added to as time and Internet connection permit (so check back later too):
Flickr Members see ChrisCruises Photo Albums (Not a Flickr member? sign up here for free) Also: Check back from time to time, more photos are being uploaded every day.
Check These Other Social Sources From Us As Well