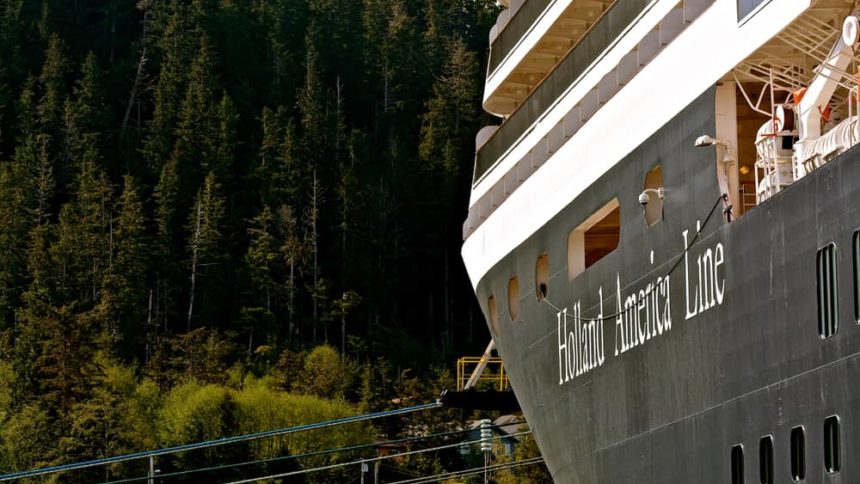 A Day In Sitka With Holland America Line
Sitka, Alaska's history goes back to being under Russian rule from 1799 until 1867.  Sitka was the site of the signing of the Alaska purchase and where the transfer of power took place on October 18, 1867.  And that's the end of the history lesson, except to mention the fact that it was Holland America Line's ms Westerdam that was the first ship to visit for the 2015 Alaska cruise season.   Ok, now we can move along to what we did on a day in Sitka, Alaska.
Docking farther away from town than Holland America normally does, the idea was to avoid the tendering operation normally experienced in Sitka and dock a bit farther away but allowing passengers to simply walk off at will.  That required a short bus ride to town, an arrangement that moved along rather quickly.
The Cathedral of Saint Michael was built in Sitka in 1848 and became the seat of the Russian Orthodox bishop of Kamchatka, the Kurile and Aleutian Islands, and Alaska. The original church burnt to the ground in 1966, but was restored to its original appearance.
Arriving in Sitka, it becomes apparent quickly: this would be a great place to book a tour as just about everything else here is about buying souvenirs.   Good tours are plentiful too, including a Sea Otter and Wildlife Quest, Volcano Coast Exploration by Ocean Raft and a Tongas Rain Forest Nature Hike.
This is a good opportunity to talk about tours in general for a moment.  Holland America Line has a grouping system that helps add an element of description that goes beyond the catalog wording.  Collections of tours include
The Encore Collection, especially designed for those who are visiting a port of call for the second…or fifth…time, enabling them to discover what lies beyond well-known attractions.
The Cruise With A Purpose collection is designed to benefit Holland America guests and the communities they visit with a give-and-take opportunity to connect locally.
We especially like Holland America's World Wonders Collection where the line adds its own nominations to the Seven Wonders Of The World.  Our trip to Mexico's Chichen Itza was one of the World Wonders places, appropriately.
The Signature Collection is an exclusive touring option for the independent-minded traveler that allows them to customize and maximize their time at destinations.
The Medallion Collection is for those who really get into the destinations, Holland America's most discerning guests that enjoy elite activities for privileged few.
Important here is that a great portion of the Alaska experience does happen off the ship.  While I believe one could take a seven-day round trip Seattle Alaska cruise and never leave the ship, content with what they can see from that vantage point, that would probably be bad advice.  There is so much to see and do in Alaska, this is an area where serious consideration need be given what visitors to Alaska will do with their time.
The afternoon brought a second beer tasting from Alaska Brewing Company, this one on deck as we enjoyed a sunny day in Sitka.
This time we tried five different Alaska Brewing Company products, now all available on board after a very brief shortage was experienced early in the voyage.
Dinner brought a wonderful meal at Italian-themed Canaletto, an area of the lido deck converted to very nice Italian cuisine at night.   Here is a gallery of that delightful meal:
Catch up with Holland America Line's Sip-Savor-Sail Alaska cruise right here, along with these other resources and scroll down to the bottom of this article for a gallery of Glacier Bay In Photos:
At ChrisCruises.com:
Check These Other Resources Too:
Our Live Instagram Feed – a photo a day of our adventure, maybe two
Live Flickr Photo Albums*all the photos, (good and bad) updated throughout the voyage, Internet signal permitting.  Check back each day as we add more photos to each of these albums:
Facebook Photo Albums photos added throughout the voyage here as well.
*Flickr account required – Sign up here