Visiting a number of Norwegian ports of call,  we're sailing Holland America Line's new ms Koningsdam during her inaugural season.  Along for the ride, a diverse group of passengers hailing from around world are enjoying a variety of activities both on the ship and off.  The first of Holland America Line's new Pinnacle Class vessel, ms Koningsdam won't be an only child for long as construction began on her first sister ship, ms Nieuw Statendam.
"With Pinnacle Class we have been able to try new things, expand our horizons and push boundaries, and while Nieuw Statendam is a sister to Koningsdam, we do have some new ideas that will be revealed in time."- Orlando Ashford, Holland America Line's president.
Due for delivery in November 2018, the first steel was cut for 99,500-ton ms Nieuw Statendam at the Fincantieri shipyard in Palermo, Sicily, Italy.  The steel cutting follows a period of design and development for the 2,650-guest ship that will feature enhanced Pinnacle Class amenities and innovations as well as a few expected tweaks on the design.
ms Nieuw Statendam is the 16th ship built for Holland America Line by Italian shipyard Fincantieri.
Meanwhile, ms Koningsdam continues to blaze the way for all things Holland America Line taking that complete package of onboard programming on her inaugural season, many of which we have sampled already on our sailing.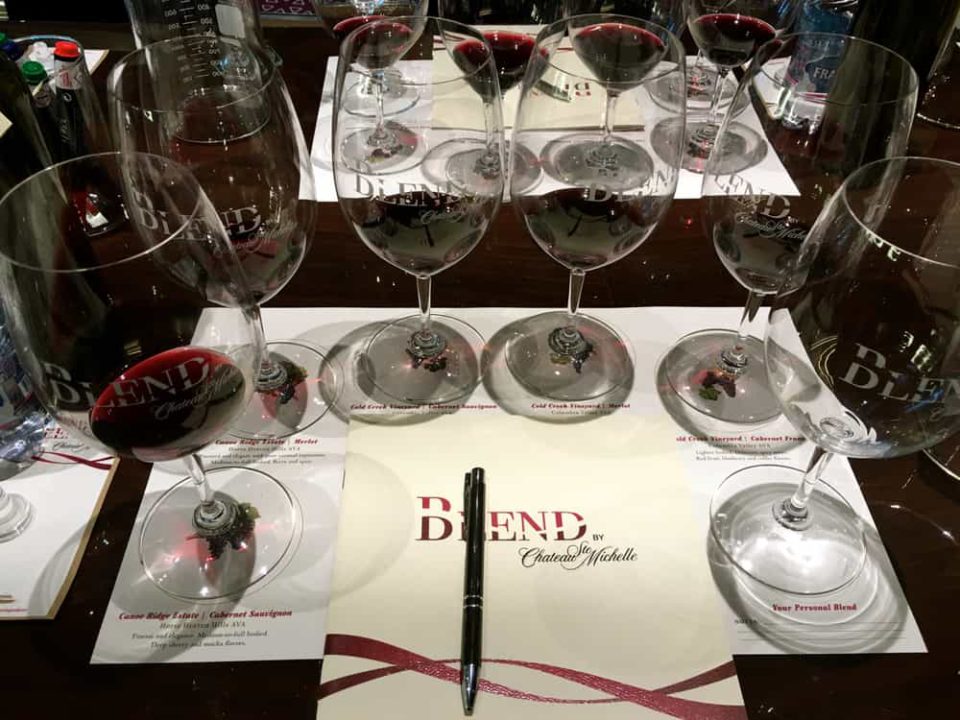 BLEND 
Wine tasting events have been around on cruise ships of all sizes for quite some time.  Pay a nominal fee, sample a number of wines, learn about the different vintages and maybe pick up a tip or two that you did not know.  Holland America Line does that too.  This is different.
During the 2+ hour BLEND experience ($129 per person), each of us in attendance experimented with blending a wine that was perfect for us, choosing from a selection of five different Chateau Ste Michelle brands.  A truly immersive experience, up to 10 guests at a time can interact with wine pros on hand to help and no questions are left unanswered.
Multiple attempts at perfecting "your" blend are encouraged.  It took three times for ours to come out exactly right but in the process a great amount of hands-on knowledge was gained.
See BLEND: Engaging Wine Event On New Holland America Line Ship for more.
CANALETTO
Already a favorite dining option, Italian Canaletto brings a family style food fest that knows no limits. While the well-organized menu breaks down to sections typical of other Italian eateries, pricing is far from ala carte. The $10 per person charge brings whatever one might desire, shifting the focus of mixing and matching totally to the experience, not so much on the price.
The leisurely service allowed plenty of time between courses for conversation or simply looking beyond other diners to enjoy the ocean rolling by as we sailed. And sail we did, in and out of Eidfjord, Norway in a way much like scenic cruising in Alaska, complete with running commentary broadcast from the bridge.
Below see a variety of images from our day aboard new ms Koningsdam in Eidfiord, Norway.
[URIS id=62115]
Follow Along With Us
BACKGROUND- Recent posts that brought us here:
PHOTOS- consider these Flickr Photo Albums created prior to this sailing:
Posted Live as we sail  the North Sea to Norway
Facebook Photo Albums
Flickr Photo Collections– check back later too- more photos loading all the time