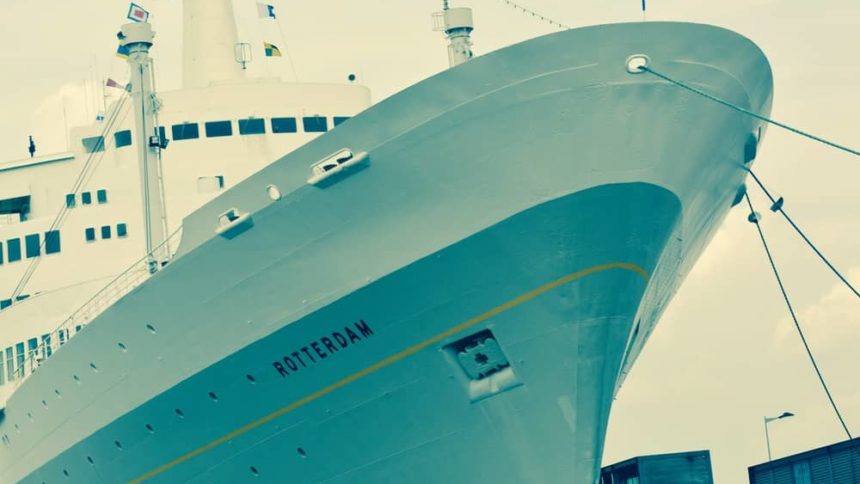 On Similar Paths: Rotterdam, Koningsdam and Holland America
Cruise travelers coming to Rotterdam, either before or after a cruise, have a number of interesting places to visit. Many have something to do with the fact that thousands of emigrants launched their journey to America from here.  In town in advance of the arrival of Holland America Line's new ms Koningsdam, we had some time to explore the area. Of particular interest was the ss Rotterdam, the last great Dutch "ship of state" that is now a hotel.
Designed by the finest Netherlands artisans of the time,  ss Rotterdam sailed for Holland America Line from 1959 until 2010.  On board, it was easy to think back to those times when travel by cruise ship was quite a different experience. First class areas of the ship were reserved for those booked in staterooms of the same rank, while tourist class was relegated to their own counterparts of those same venues.
Looking for more on the history of Holland America Line, our visit to ss Rotterdam provided a healthy dose. Perhaps more than I bargained for as just one example of the Holland America Line presence in this part of the world.  That connection runs deep.  In advance of the arrival of ms Koningsdam, for example, the Holland America Line flag has been raised around town.
On the way to ss Rotterdam via water taxi, we passed a number of places that have transitioned over time to remain relevant.   One was what is commonly referred to a the Yacht Club, a private club with roots that go back as far as Holland America Line in the area, nearly 150 years.
Our host for the tour was Ton Messenlink, General Manager of the ss Rotterdam and a local resident fully versed on local history, as so many of this part of the world seem to be.
The Yacht Club (@KRZV_De_Maas) is a members-only place that has been involved in the maritime history of this part of the word since its inception, most recently involved with yacht racing and crew rowing.  Today, its a place where local businessmen might bring a client for lunch.
An organization headed by men prominent in the maritime history of the region, current leader Jacob van der Goot provided a great amount of insight into the past and present lifestyle of the area.
On ss Rotterdam, we toured the entire ship including most public spaces and staterooms turned to hotel rooms.  It was a bit of a walk in the past, but a recurring theme brought us back throughout the visit: today's Rotterdam is a relevant, interesting travel experience with great value for those who appreciate the history that got them there.
In a way, that's much the same theme we are seeing unfold at Holland America Line as President Orlando Ashford solidly respects the company's 143 year history and is using that solid base from which to launch new ms Koningsdam appropriately from the Port of Rotterdam.
As I write this, ss Rottterdam and the city of the same name waits in anticipation of the arrival of ms Koningsdam and yet another footnote to history.   More on all that shortly.  For now, a gallery of some interesting images captured during our tour of the ss Rotterdam.
[URIS id=61200]
Want to see more?  See our Flickr Photo Albums on this topic:
Hotel New York– the former world headquarters for Holland America Line
About the ss Rotterdam, as a hotel:
Visitors looking to stay a night or two before or after sailing or as part of an exploration of the Netherlands, can book directly with the hotel.