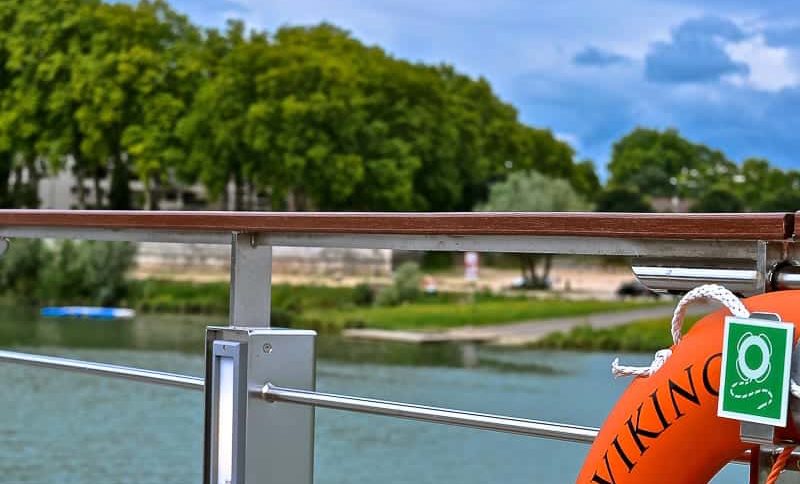 Five Things To Know About Viking River Cruises
We talk a lot about packing, planning, preparing, cuisine, airlines and airfare, what to do,  what to avoid doing, all tempered with personal variables that change from traveler to traveler right down to which travelers to avoid at all costs.  The other day, before taping an episode of River Cruise Radio all about Viking River Cruises, I thought of the most important differentiating factors; elements of the experience that set Viking apart from others. Through that process came five things to know about Viking River Cruises.
The Massive Viking Fleet Offers Distinct Advantages
A simple fact about river cruising in general: itineraries are not set in stone, for a number of reasons. On an ocean cruise, it takes a weather-related issue (high winds or a hurricane) or mechanical problem (warp speed broken) to modify the itinerary. Otherwise, ships go from place to place on schedule with that time in port advertised in advance.  River cruises are different.  Most don't list times in port because while you may see x number of places, you might not be delivered to those places by ship at all.  River water levels, number of ships going through the many locks you might encounter along the way and other factors come into play. A severe alteration to the planned itinerary might be announced in advance, before you leave home, with the option to go or not go.  That happened to us on our Elegant Elbe river cruise in Eastern Germany where the ship never moved at all.  That turned out to be one of the best travel experiences ever but was not as planned.
That Viking has more ships than other river cruise line enabled us to travel. Had we booked a different line, we would not have had that option.
Viking Has The Best Value Per Person Per Day Cost
That same massive fleet of Viking Longships got to be that way by offering a comparatively superior travel value. Up until Viking's rapid expansion, cruise travelers coming from ocean travel did not apply the same cost per person per day theory used to compare ocean travel products.  The math just did not apply.  Viking changed all that by utilizing the available space more efficiently with a different ship design featuring an off center hallway that brought a variety of accommodations not available on other river cruise lines.  In other words, Viking's product was aimed to draw travelers from ocean cruising options by offering familiar choices.  Adding quiet, gas burning turbine engines, the aft area of Viking Longships allowed for two Explorer Suites, in an area used solely for a lounge on other river cruise ships.  That's about all the other river cruise lines could do with the space; it was just too noisy and vibration from their old fashioned engines made living above that space unbearable.  Those features combined with solar panels on the top deck and other energy saving features made for lower overhead costs, greater yields and a lower price to travelers.
I never thought this would apply but do the math: Viking brings more value per person per day.
River Cruising Includes More, Viking Includes More Still
The river cruise experience, in general is a more inclusive one. Viking's inclusions are more than other river cruise lines and they back  it with a sincere desire to make that happen on each and every sailing.  On another line, our visit for shopping with the chef in Vienna might have cost extra.  On Viking: included. Case in point: We enjoyed a modified Vikings Elegant Elbe river experience and the ship never sailed one inch.  To make up for that unexpected experiences were added. We saw and took home memories that added up to all we bargained for and more.
Frankly, if I had it to do over, I think we would miss the ships being parked in one place for several days.
Discounted Air Is A Huge Cost Savings
Book a Viking cruise a year or more in advance and totally free airfare from North America is not hard to find.  After recent terrorist events stopped a number of would-be river cruisers for going, nearly every river cruise line was giving away air.  That scare past, Viking continues to do so by buying huge blocks of air seats.  Right now, that adds up to free air and even more value on 2017 sailings if booked by January 31.  That promotion caused us to lock in on Viking's 15-day Grand European Tour this coming September.  It's one I did a few summers ago that Lisa has been wanting to do ever since.
Diverse And Interesting Itineraries
One would think that there would be standard itineraries that go to the places travelers want to see like clockwork and most river cruise companies do.  Viking's klout opens the door to exclusive experiences other river cruise lines can't get close to.  Never satisfied to sit still for long, Viking is always updating their experiences based on passenger feedback, evolving itineraries one would think would never change.  Still, advertising and delivering are often two different things.  An onboard Viking Program Director most commonly born and raised in the part of the world where your ship sails, provides qualified continuity throughout the experience.
Interestingly, this is a way of operating we first saw on Viking River Cruises which also carried over to new Viking Ocean Cruises.
Want more on all of the above?  Click here for a great episode of new River Cruise Radio where we cover all these topics and more in greater detail.