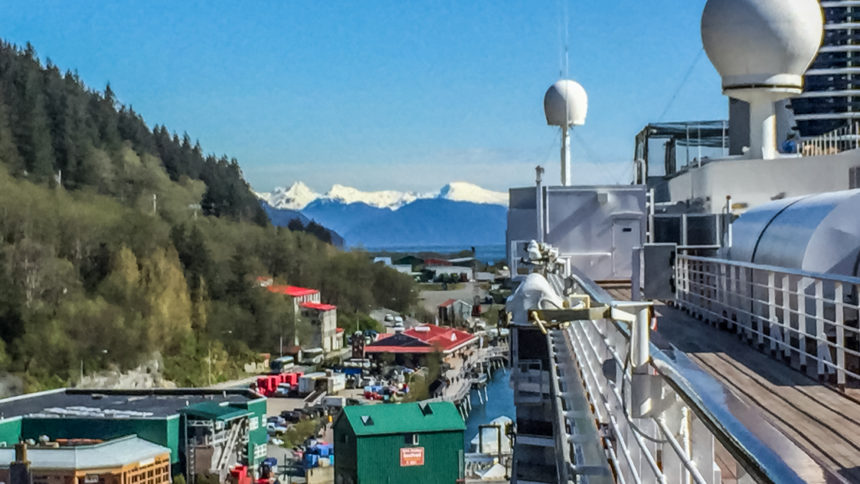 Customizing Your Packing List To Cruise Alaska
We could start all over, making an entirely different packing list exclusively for a cruise in Alaska. But why? Much of the cruise travel experience will be similar to sailing in any other part of the world.  In fact, for the many cruise travelers who have sailed to the Bahamas and the Caribbean frequently before that first trip to Alaska, tweaking that packing list works well.  An interesting article on CruiseFever.com has the details and tweaking procedures.  Additionally, there are some specific items on any packing list that should be adjusted or changed, depending on where travel takes us.  We begin with printed and online resources we might use before or during travel.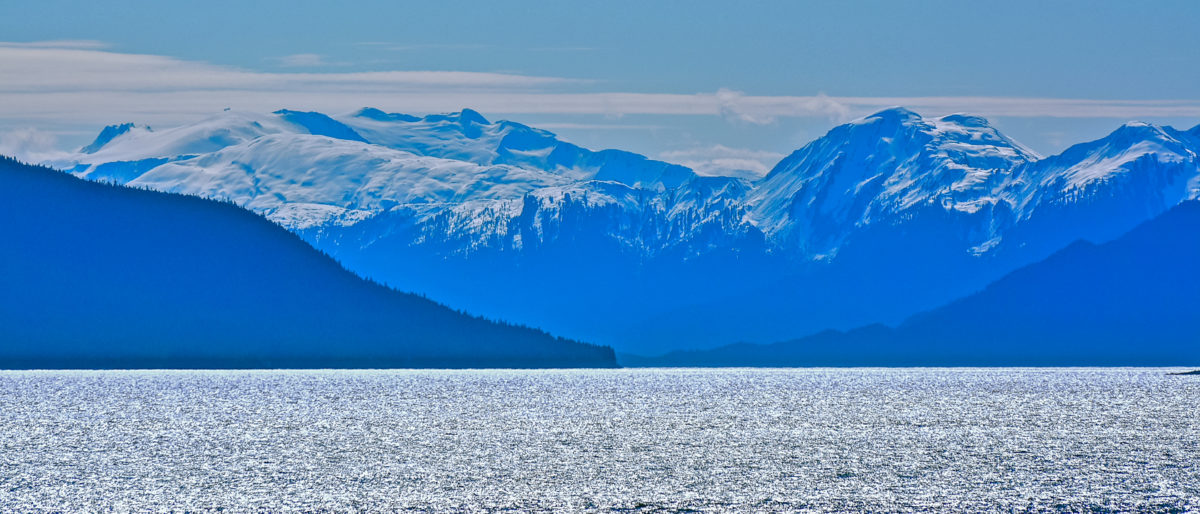 Updated Destination-Specific Travel Apps
The travel apps I used on our last trip, a 15-day Grand European Voyage with Viking River Cruises were nice to have along at the time.  Those helpful alterations to our packing list will do me absolutely no good on my trip to Alaska with Holland America Line for Oprah's Share The Adventure Cruise.  A Prepare To Travel box to check off item: updating my iPhone travel apps specific to the place on the planet I am traveling to. Location, travel service provider and general interest apps about the place or places to be visited are a good idea.  I get all of the free ones available that look as though they might have some use.  Odds are I will not use them all. Some will not work, some based on similar topics will work better than others and some will remain after the completion of travel.
For this particular sailing, I found 20 potential travel apps that might be helpful, all found by searching for "Alaska".
I will be on a 7-night sailing.  If this were a longer sailing, I might expand that search to include each place on the itinerary.  Frankly, I don't want to spend all my time figuring out which app works best.  I'll be viewing enough of the trip through the viewfinder of a camera anyway, which brings us to one very important caveat to this whole process of travel apps we take along for the ride:
Don't Be Afraid To Do Nothing
There are moments where it is just best to set the camera down, close the apps and drink in the scene with your eyes, burning it into your memory forever.  Don't miss those moments by playing follow the leader at times when it appears everyone else is shooting photos or using a device in one way or another.  That might be the best tip offered in this post.  Still, moving along, some other ways to customize your packing list for Alaska, Travel App-wise:
Update Existing Apps- Also a Prepare To Travel checkbox item: updating all other apps on your device.  Those apps you rely on to see activity on credit cards and bank accounts need to be in top shape before travel.
Allow Notifications, At Least When Traveling- I set bank accounts and credit cards to alert me via my smartphone any time a charge is made.  When possible, I have those notifications mirrored on my Apple Watch.  When traveling, that charge of $24.94 to DEMELS SOEHNE-WEIN, AU made sense when received moments after we enjoyed delicious cakes and coffee at Demel in Vienna for €21,85 while on our Viking River Cruise. It might look deceptively strange when viewed later, back home.
Avoid Updating Anything While Traveling– Updating apps and operating systems while traveling is a move to be avoided if at all possible.  Why?  When system updates first come out, there may be new features not compatible with installed apps we rely on all the time, regardless of where travel takes us.  That's a situation to resolve back home where your devices will most likely work the best.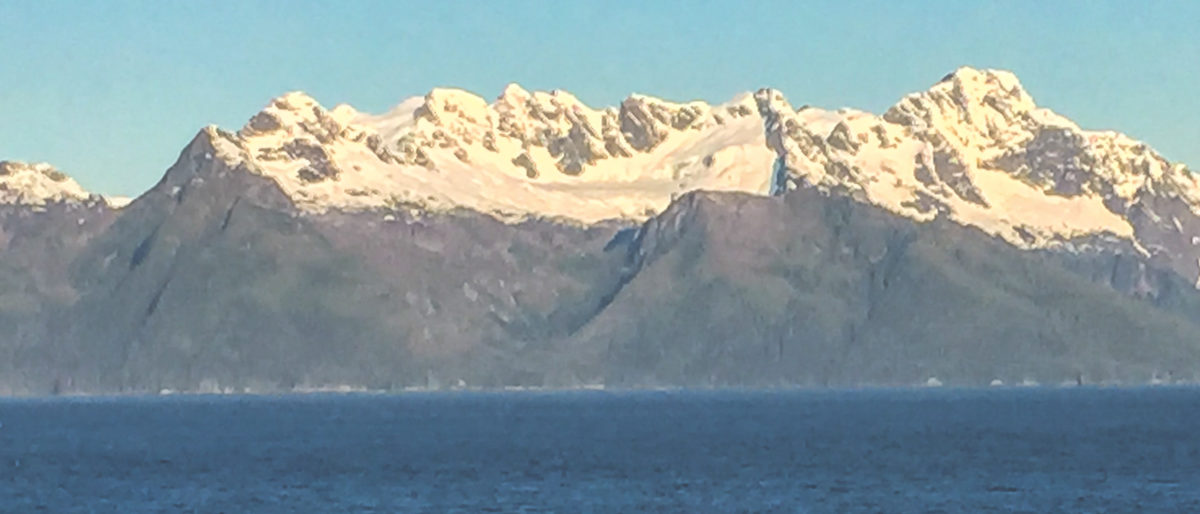 Customizing Weather Related Packing List Items
Alaska is a bit different climate than most other places cruise travelers may have sailed to.  It rains a lot here and a lightweight raincoat is a required item.  Your tolerance for cold weather might dictate a sweatshirt or the ability to layer clothing, adding or removing layers as temperatures require.  Let's put it this way: If you bring along a sweater on any other cruise, mainly because public venues on your ship might be chilly, bring that along for sure.  After that, check the weather forecast at place you will visit about a week in advance.  That current information will help guide last-minute packing efforts.  Regardless of the forecast though: keep that raincoat handy.  I bet you need it. Here is the forecast for the first few days of our journey with Holland America Line and the first port of call, Juneau: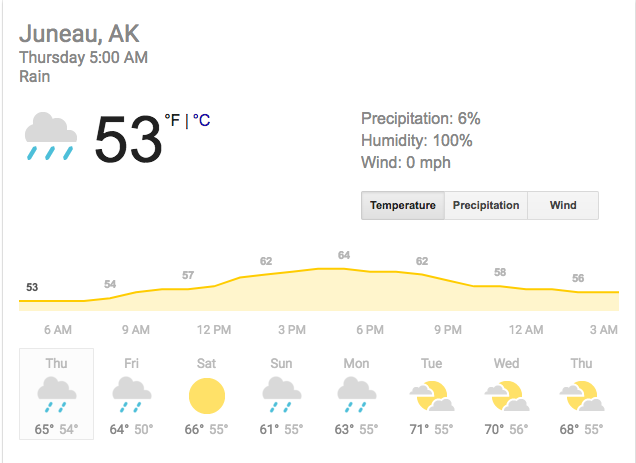 Sailing further north, it gets cooler so keep that in mind.  Our second port, after a chilly day of glacier viewing, is Sitka and the weather is forecast to be a bit more chilly yet: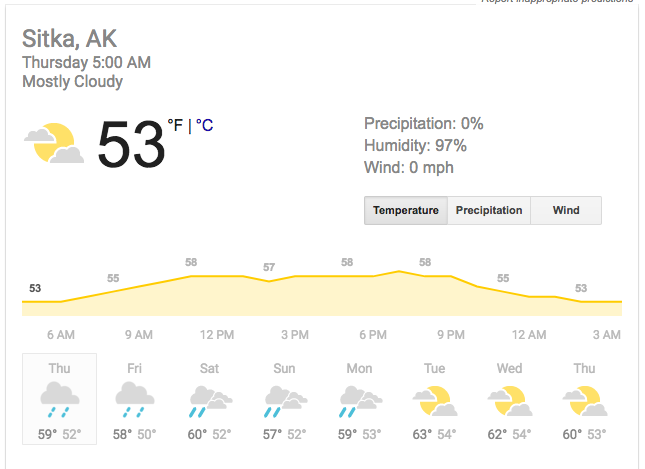 Next up is Ketchikan, about the same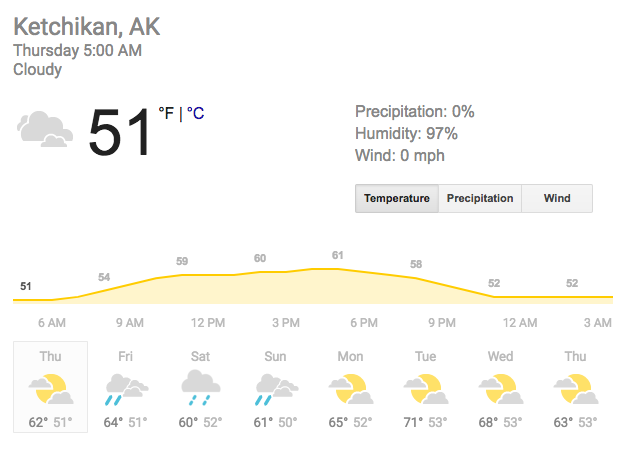 See more detail on weather forecasts at Weather.com.
Here are some photos from a past Alaska cruise with Holland America where they do something special: Open up the bow of the ship for up-close glacier viewing.  The view is spectacular so come dressed for the weather.  You'll want to stay.
Another way to check and see what others are wearing is to search instagram for Alaska and see what pops up. Many travelers visit Alaska by cruise ship and for this purpose, we really don't care which cruise line they are visiting with.  Cold is cold, regardless of how we get there to experience it.
That's really about it on customizing your packing list for Alaska.  Still, if looking for more ideas, here are some favorite Alaska packing lists I check from time to time that are updated regularly: